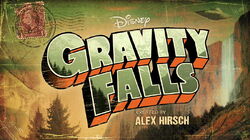 Wodogrzmoty Małe — amerykański serial animowany, wchodzący w kanon Disney Channel Original Series. Został on stworzony przez Alexa Hirscha. Swoją premierę miał 15 czerwca 2012 w USA na kanale Disney Channel.
Plany rodzeństwa Dippera i Mabel Pines zostają zrujnowane, gdy rodzice wysyłają ich do domku wujka Stana w Gravity Falls w Oregon, który prowadzi najdziwniejsze na świecie muzeum The Mystery Shack, będące w rzeczywistości turystyczną pułapką. Wkrótce Dipper i Mabel odkrywają jak tajemnicza jest miejscowość ich zwariowanego wujka i próbują zrobić wszystko, by nauczyć się żyć w Wodogrzmotach Małych.
Ad blocker interference detected!
Wikia is a free-to-use site that makes money from advertising. We have a modified experience for viewers using ad blockers

Wikia is not accessible if you've made further modifications. Remove the custom ad blocker rule(s) and the page will load as expected.